#1 Pressure Washing Services In Ennismore
Surrounded by water not far in any direction, Enissmore is a beautiful place to settle down with your forever home. In order to make sure that your beloved home looks as good as it feels, you should invest in regular pressure washing by trusted professionals. We at Professional Pride Pressure Wash are the top pressure washer servicing the wonderful city of Eennismore.
Whether it's your business or your home, it's important to provide your property with routine professional cleaning. Not only does a clean property look great, but it's also a safe and healthy one. Make sure your Ennismore property is kept in its best state for the sake of you and everyone else who may find themselves there.
Eennismore Roof Cleaning
It's vital to regularly clean your Ennismore home's roof. There are plenty of benefits to yearly roof cleaning, such as:
Clear your roof of potentially damaging debris
Rid your roof of harmful growths like mildew, mold, and algae that can cause rot and determination to the surface of your roof
Catch any potential or existing damage and get it fixed before it becomes irreversible or an even larger, more serious problem
Increase the lifespan of your roof and save it from needing to be prematurely replaced
Add curb appeal and value to your home with a sparkling, clean roof
Keeping your roof clean has more structural benefits than visual ones, overall. It's a great idea to have your roof looked at and cleaned by a professional at least once a year.
Ennismore Driveway Washing
It's also a good idea to have your Ennismore home's driveway professionally washed at least once a year. Keeping your driveway clean, much like your roof, has plenty of safety and health benefits on top of the obvious aesthetic ones.
When a concrete driveway goes ignored, it can have buildup develop on the surface over time. This buildup decreases traction and becomes a slipping hazard for you and your family. Your driveway can also have all of the same harmful growths listed above that threaten your roof, with the addition of weeds.
Obviously, regularly cleaning your driveway has visual benefits as well. You may not realize just how dirty your driveway has become until it's cleaned and rid of all the stains, spots, and discoloration. Brighten up your home's entire property with a fresh, clean driveway.
If you are searching for a high-quality pressure washing service for your Ennismore home or business, call us at 705-808-4867 to schedule a service today.
Latest Pressure Washing Projects in Ennismore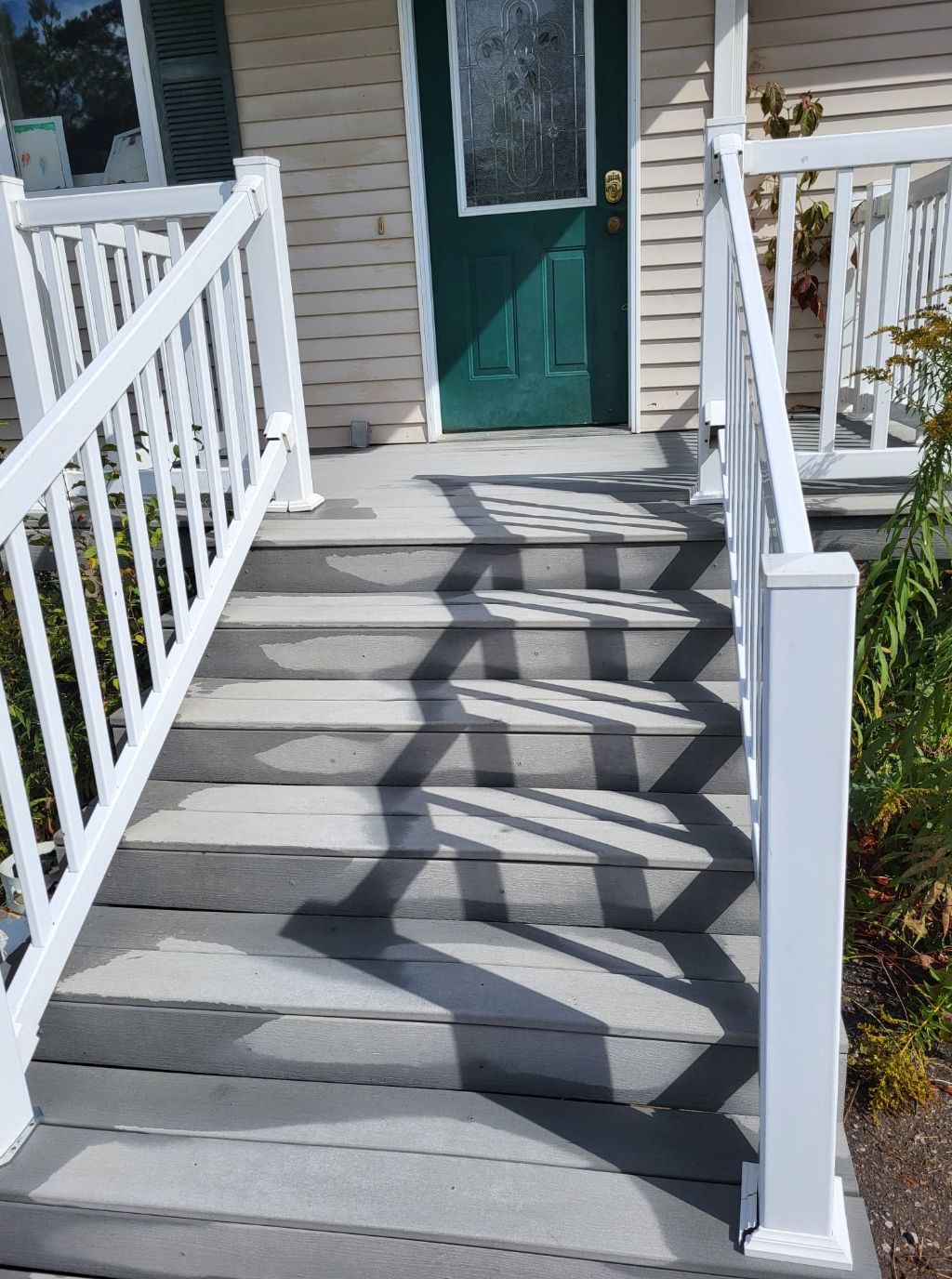 Deck and Siding Cleaning in Ennismore, ON
This project involved the cleaning of IPE wood decking which was showing signs of moss growth. Our regular SH cleaning process was exactly what was required to bring this deck back to "like new" condition. We also took care of some siding which was showing signs […]
There are currently no reviews or testimonials; check back soon!
Call Your Peterborough Pressure Washing Experts Today!